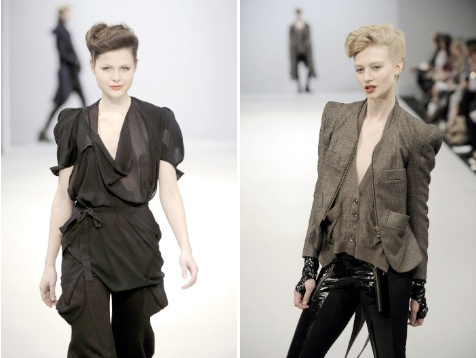 Saw this over at kingdom of style and INSTANTLY fell in love with the look on the right. I actually don't totally dig the whole collection, and I think a few of the silouettes would look pretty funky on those of us not gifted with a twiggy stature...but I really love what they are doing here. Mixing the buttoned up, straight look with the gothrock look I was ever so fond of at 13. God I wish sometimes that I had kept my pvc black bondage pants. Yes I do. I never thought I would be saying that. Shit.
Another look I like:
This I dig, not only for the pvc pants, oh no...also for the glamming up of a tride and true silouette. I think we've all gone to hoodie and blazer when at a total loss for what to wear on a cool night....and this basically takes that idea and punches it up about a thousands notches. Totes radical.